Okay, now that we've gotten the etiquette post out of the way, let's talk about tonight's show and what to expect. Here is the blow-by-blow of what to expedct, including the ALL IMPORTANT PEE BREAKS.
OPENER – There are 1000 musicians playing Italian songs! Or maybe not quite 1000 musicians, but the musicians called Rockin' 1000. And the crowd will be clapping along and it's not going to translate well on TV but then LAURA PAUSINI shows up and sings and will WOW you.
FLAG PARADE – These are always fun – it's the moment of glory for the artists before things get serious. Listen to who will get the loudest cheers from the crowd. It doesn't always translate to points, but who might be in the arena and who are loud (Spanish and UK Eurofans!)
SONG 1- LIGHTS OFF by WE ARE DOMI from the CZECH REPUBLIC – BANGER. A crowd-pleasing dance number. We Are Domi turn the lights on and it's like watching one of those prog rock laser shows from the late 1990s. They won't win, but boy, are they fun. Best lyric: "Tried changing jobs/Tried changing lovers/Tried changing furniture/Changed the bedcovers." (Also, this is a reminder you probably need to change your sheets.)
SONG 2 – LLAMAME by WRS from ROMANIA – BANGER. It's now a legal requirement for every Eurovision show to contain some baila baila music, which – surprisingly enough – is not always from Spain. (In fact, the most notorious purveyor of Eurovision-adjacent baila baila is Sweden's Alvara Estrella.) Anyway, this song is sexy and fun and full of polyamorous propaganda and the world's most anticlimatic costume reveal. Will it win? No. Will you leave this performance singing "Hola mi bebebe/Hola mi bebebe/Llamame llamame/Llamame llamame"? YES!
SONG 3 – SAUDADE by MARO from PORTUGAL – COOL DOWN. After the highly aerobic opening, we've got a cool-down period. Maro has brought a song which is the epitome of the "Lo-Fi Beats to Chill To" genre. If this is a coven, SIGN ME UP.
SONG 4 – JEZEBEL by THE RASMUS from FINLAND – BANGER. Yes, it's uptempo but it is a banger banger? Maybe. A lot of us are cringing at the lyric "A girl who looks like she's a boy." And a lot of us are cringing at the creepy little kid energy emanating from the 40+ year old lead singer. But the one redeeming thing about this performance is the guitarist Emilia "Emppu" Suhonen, who is SUCH a badass. You'll recognise her because she looks like this: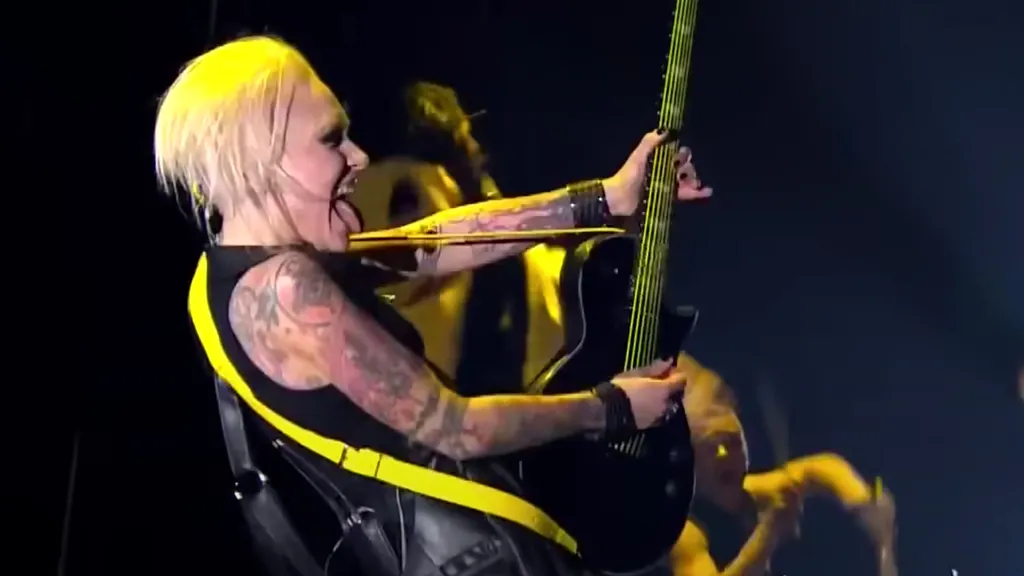 SONG 5 – BOYS DO CRY by MARIUS BEAR for SWITZERLAND – PEE BREAK. Marius Bear sings very very very slowly. About horrible things like airplanes falling out of the sky. Also, he's a crypto bro who likes to hang around barefoot. If you cross Louis Armstrong with Elon Musk, you get Marius Bear, so it's a hard pass from me!
BREAK – If you've taken a pee break, feel free to go to the kitchen for a refill as it's going to be a couple of minutes of filler while the stage is set up for France.
SONG 6 – FULENN by ALVAN and AHEZ from FRANCE – BANGER. Did you like Ukraine's electrofolk last year? Well, you'll love France's Breton trance banger about dancing with the devil! There will be a strong epilepsy warning on this one because it has literal blink-and-you'll miss it camera cuts. And while Eurovision is full of attractive people, we have our first GENIUNE thirst trap here with Alvan and his unintentional fisting tattoo (DON'T GOOGLE THAT IF YOU DON'T KNOW WHAT I AM TALKING ABOUT.)
SONG 7 – GIVE THAT WOLF A BANANA by SUBWOOLFER for NORWAY – BANGER WITH CAVEATS – If you are a small child, you will love this. If you are a fan of the Masked Singer, you will love this. If you are watching this for the first time, you will love this. If you are a person like me who has watched them do this same performance about 300 times in the exact same way, you're over it. And in added Eurovision drama, Norway tried to create controversy by suggesting that last year's contestant TIX was the person inside the DJ Astronaut costume. (TIX fans, whoever you are – don't worry. He'll be presenting the points for Norway tonight.)
SONG 8 – SNAP by ROSA LINN from ARMENIA – ON THE BORDERLINE BETWEEN BALLAD AND BANGER. Okay, expect your Twitter timeline to be full of jokes about using up the toilet paper she hoarded during the pandemic. But after you giggle at that, stay tuned for a truly impactful performance with a big, crowd-cheering moment at the end. Armenia won't win, but Rosa Linn will pick up some points from the juries.
BREAK – We get a short break here to review the semifinals, and this better include footage of this guy riding a bull, because it is the most Eurovision performance EVER:
SONG 9 – BRIVIDI by MAHMOOD and BLANCO from ITALY – BALLAD BUT SOMEHOW A BANGER. The hometown crowd is going to go absolutely NUTS for this performance, which is a love song about a dysfunctional relationship. I too will be going NUTS for this performance, because the chemistry between Mahmood and Blanco is off the charts, with my mind screaming "NOW KISS" from about 30 seconds in. (Blanco's straight, Mahmood's not, no one cares, this is art.) Stay to watch 18-year-old Blanco jump all over the piano. YAY.
SONG 10 – SLOMO by CHANEL from SPAIN – THE PURE ESSENCE OF BANGER. Okay, so remember three minutes ago when the arena went nuts for Italy? Well, they are going to stay nuts for Chanel, who has a shot at winning despite not delivering a ballad. She is singing a dembo-heavy song about her very impressive booty. Usually, I'd be "This is one for the dads!" because Chanel is flaunting every single curve the Lord in Her Wisdom has blessed her with. But Chanel transcends the male gaze. She's performatively taunting all the men who can't have her with the lyric "Take a video watch it slomo" and for this, the daddies, girls, and gays all adore her. Seriously, one of the most polished performances in the competition, with a few new elements added to spice it up. AND THAT DANCE BREAK!
SONG 11 – DE DIEPTE by S10 from THE NETHERLANDS – BALLAD BUT GOOD. S10 (which is pronounced "Steen") is an angel who has descended from the heavens to croon at us. I mean, she's singing Dutch so chances are you don't know what she's singing anyway, but when she hits the "ooooooooohs" and "aaaaaaaahs" it is MAGICAL. Will the Nethalnds win? No, but that's only because S10 has to go perform miracles like Michael Landon in Highway to Heaven, and will be too busy to come back to Eurovision for a winner's reprise next year.
SONG 12 – STEFANIA by KALUSH ORCHESTRA from UKRAINE – BANGER. I will keep repating this until I am red in the face – IF Ukraine win the whole shebang, it's not because of sympathy votes. It's because their song is a legitimate and amazing BANGER. It mixes traditional Ukrainian folk instruments with rap and a hype man dressed in a Ukrainian -patterned gimp suit. The staging is also on point – there is a moment when the bodies of the performers are reflected in the animation on the floor which is gorgeous. Yes, the end of this song is going to result in a big old FUCK YOU PUTIN cheer from the audience, but it wouldn't be a favourite with the bookies if it also weren't a favourite song with the Eurofans.
BREAK – And there's a short filler moment here that is not, as one might think, to let some of the emotion from Ukraine's performance disapate, but to instead set up Germany's many many props.
SONG 13 – ROCKSTARS by MALIK HARRIS from GERMANY – PEE BREAK Malik Harris usually performs with a looper. The EBU wouldn't let him use one. As a result, he's come with a song that does not represent his best work. It's acoutic guitar rock with touches of Eminem and Lin Manuel Miranda, but its message of nostalgia is hard to take coming from someone who is (checks notes) 24 years of age. What are you nostalgic about, Malik? Wearing diapers?
SONG 14 – SENTIMENTAI by MONIKA LIU from LITHUANIA – BANGER. We go from fauxstalgia to nostalgia so powerful that it makes you think you're watching a performance from 1975's Eurovision. Thats a compliment, by the way. Monika Liu brings her Dorothy Hamill haircut and shimmery silver dress and recreates a disco vibe like she's just been transported in from Studio 54. Oh, and it's all in Lithuanian. It's the type of song you'll only encounter at Eurovision – I mean, you're probably not seeking out Lithuanian crooners on Spotify – but you will leave a Monika Liu fan.
Song 15 – FADE TO BLACK by NADIR RUSTAMLI from AZERBAIJAN – PEE BREAK. This year's Eurovision seems to have juries that have gone absolutely gaga over sad male vocals. And yes, Nadir can sing. But the only thing that you'll leave this performance with is a sense that you've just watched Eurovision as performed by a New England Patriots fan at Gillette Stadium – there's a lot of talk about The Weatha. It's wicked cold out there, bra!
SONG 16 – MISS YOU by JEREMIE MAKESIE of BELGIUM – PEE BREAK. Jeremie Makesie has a wonderful voice and horrible staging and a mediocre song. His background dancers fade into the background, and the sultry, lonely vibe promised by the song's opening is never fully realised.
BREAK – And then we have a short break while the stagehands put out an IKEA's worth of kitchen chairs on stage for Greece.
SONG 17 – DIE TOGETHER by AMANDA TJENFORD from GREECE – BALLAD (but a banger) – It is not inconceivable that Greece could win this whole thing! It's not likely, but it's not inconceivable! Amanda delivers a modern dark ballad that's got just enough electro elements to appeal to both ballad lovers and banger sluts. And it's staged beautifully, building to one great big moment on stage – you'll know it when you see it. 
SONG 18 – Með hækkandi sól' by SYSTUR from ICELAND – YEE HAW. I should hate this song. It's a ballad in a language I don't understand. But these three sisters (and their brother on drums) deliver a stunning country song with gorgeous harmonies that just gives good vibes.  There's a lovely split screen moment in the staging which lets each sister have her own moment. There's been a lot of country at Eurovision, but this is the best country song since The Common Linnets.
SONG 19 – TRENETUL by ZDOB SI ZDUB from MOLDOVA – BANGER. Are you feeling a bit sleepy with all these ballads? Eurovision veterans Zdob si Zdub are here to get you moving. They've mixed an irresistible fiddle hook (think Fairytale) with The Ramones and have created a party song in the way that only Moldovans can. You'd think that watching a bunch of middle-aged men bounce around on stage with no discernible choreography would be a disaster, but their charisma is unmatched. Out of all the acts I've seen live this week, the arena crowd loved Zdob si Zdub the most. 
SONG 20 – HOLD ME CLOSER by CORNELIA JAKOBS from SWEDEN – BALLAD BUT UMISSABLE. In Italy's largest indoor arena, Cornelia Jakobs somehow manages to create an intimate moment of pain and longing and horniness all wrapped up into a sparkly sport-bra package. Her voice rasps in a way that suggests she's been crying and drinking whiskey trying to get over the fact that she just can't let her lover go. Sweden is a potential winner, and it's because she will have grabbed the hearts of Europe and wrung them dry of tears. 
SONG 21 – NOT THE SAME by SHELDON RILEY from AUSTRALIA – BALLAD BUT WORTH WATCHING. Sheldon is singing about being autistic and gay and he's belting out every note while marching up and down a staircase in a giant feathered train. All of this builds to a moment where Sheldon drops his mask (a very powerful metaphor for how autistic people often have to hide their personalities to fit in with neurotypical people) and I bet his voice is going to break with emotion and when that happens, I am going to start crying. We've had a lot of LBGTQ+ representation in Eurovision but I think this is the first time that we've had autistic representation, and as someone who has recently been diagnosed, this song resonates with me in a way I never expected. 
BREAK – A short break now as Sheldon has to get off the stairs without tripping over his train and the giant props for the UK are set up. I mean, it looks something like this :
SONG 22 – SPACEMAN by SAM RYDER for the UNITED KINGDOM – BANGER. The UK will come left hand side of the scoreboard. The song is radio-friendly pop. Sam Ryder is a golden retriever in human form. And the staging is fabulous. Plus, Sam Ryder can SING. I mean, he will let go and fill the arena and smile and point in the air and everyone will melt. Could it win? Yes. But if it doesn't, it signals the return of the UK really taking this contest seriously.
SONG 23 – RIVER by OCHMAN for POLAND – BANGER. Yes, it's a ballad. And yes, it's a ballad following Sam Ryder absolutely killing it. But it's a ballad with an electro beat beneath it and staging that veers on the frenetic at times. Worth watching to see Ochman get swarmed by river spirits trying to drag him down. 
SONG 24 – IN CORPORE SANO by KONSTRAKTA for SERBIA – BANGER DO NOT MISS THIS. Let me tell you that you will never be so excited to hear a song about the need for universal health care. Konstrakta is not bringing a song to Eurovision. She is bringing performance art. Don't get distracted by the mention of Meghan Markle, because this is a beautiful musing on the physical manifestations of health and who deserves health care. Plus, the "biti zdrava" hook is killer and will be stuck in your head for weeks (in a good week!)
SONG 25 – HOPE by STEFAN from ESTONIA – YEE HAW –  Stefan is bringing us the Wild Wild West by way of Eastern Europe. He's got a deep twang that soars during the choruses, and a stage show that requires him to jump over the water feature on stage. While it's not quite "Ennio Morricone, eat your heart out", ending the show with a man singing "I Hope/I Hope/I Hope/The Future Still Remains Our Own" is a powerful message. 
VOTING STARTS. We'll get a recap, and then an educational video about Italian hand gestures. (I am not making this up.) Then a real spaceman will appear, with a segment featuring Italian astronaut Samantha Cristoforetti.
And then we get Maneskin being SEXY with a two-song set – their new release Supermodel and then an Elvis Presley cover that will be featured in the new Baz Luhrmann Elvis film. I mean, Maneskin did amazing things with a Four Seasons cover, so I can't see what happens here. The one issue is that lead singer Damiano has hurt his ankle so may not be as slithery as he usually is.
After that, the hosts once again take the stage before Italian Eurovision winner Gigliola Cinquetti performs her 1964 Eurovision winning song Non Ho L'eta. Expect lots of tears and a standing ovation. The only way this could get more meaningful for Italians is if Domenico Modugno came back from the dead to perform Volare.
We've then got a bit more filler – the Eurovision Confidential bits that I don't even enjoy – and a couple of green room interviews before host Mika does a medley of his greatest hits, including Grace Kelly.
After one final recap, voting stops at midnight CET, and then FORTY countries deliver their results. The schedule optimistically has this occuring in 40 minutes, but there's no way personalities like Queen Samanta Tina are going to take a single minute to announce their points. Strap in for a LONG night.
And then we get the winner and tears and cheers and a whole lot of Monday morning quarterbacking.
Anyway, follow me @dudepoints on Twitter for live commentary during the show, and ENJOY.